Image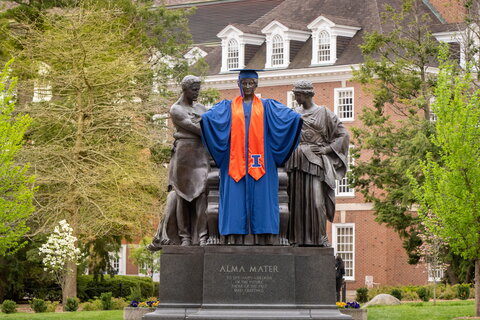 The School of Integrative Biology has a tradition of teaching and research excellence over 150 years old, when courses in Zoology, Botany, and Entomology were first taught at the University of Illinois. Our departments were founded in 1884 (Zoology/EEE, Genetics and Development, Animal Biology, Ecology, Evolution and Behavior), 1901 (Botany/Plant Biology), and 1909 (Entomology). In the last century and a half, our faculty have had the pleasure of working with tens of thousands of undergraduate and graduate students who have gone on to change the world through their impactful and cross-cutting work.
To celebrate these accomplishments, the School of Integrative Biology created the Alumni Achievement Award and the Outstanding Young Alumni Award to recognize significant contributions through outstanding professional achievement or exceptional service to the School or the departments.
We are seeking nominations for the following awards:
Achievement Award - for outstanding professional achievement that demonstrates the value of an education (BS, MS, or PhD) from the University of Illinois.
Outstanding Recent Alumni Award - for a recent graduate (within 10 years of final Illinois degree) for outstanding or noteworthy professional achievement.
Nominations may come from alumni, faculty, commercial enterprises, college of campus advancement personnel, friends of the University, or other academic institutions that employ Illinois graduates. Nominees must have earned a BS, MS, or PhD in Biology (with or without a concentration), Botany, Ecology, Evolution and Conservation Biology, Entomology, Genetics and Development, Integrative Biology, or Plant Biology.
To nominate an alumni for either the Achievement Award or the Outstanding Recent Alumni Award, please include the nominee's name, address, degree(s)/years at Illinois, employers, career path, C.V., statement of recipient's achievement or significant accomplishments, and at least two letters of support from individuals familiar with the nominee in a single PDF and submit to go.illinois.edu/SIBAlumniAwardNomination by December 1st annually. Questions can be directed to rkeane3@illinois.edu.