Image

Alumni Connections 
Image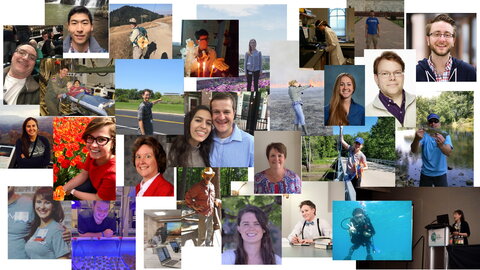 Email Christina Swanson to be matched with a professional in your field!
We have over 50 IB graduates, now professionals in a huge range of fields, who are excited to talk with you about how to advance your career. All of our alumni mentors are available for conversations, informational interviews, advice, and mentorship, depending on what is most beneficial to you.
What can you do with an IB degree?
How do you find job openings in your field?
What do you really need to know or do to get a job in your field?
How will COVID-19 impact your job search?
Image

Planning your future was already tough, but with COVID-19 has come new and unpredictable challenges. It is more important than ever to understand how to be successful on the job market, how to market your skill sets, and what your career options are. It will be essential to gain connections and allies in your fields of interest.
It's easy to connect with professionals in your fields of interest - email Christina Swanson at alumnimentor@sib.illinois.edu and she will match you to the right person for you! After a short conversation we can identify the person who will be most helpful for you and make an introduction. Christina can help you figure out what to say in that initial email, what kinds of questions to ask, and how to maintain a strong professional network.
Check out some of the IB alumni profiles and get to know some of the alumni already a part of our program!
You can also connect with our alumni mentors as well as current IB peer leaders on our Career Connections Discord server
Image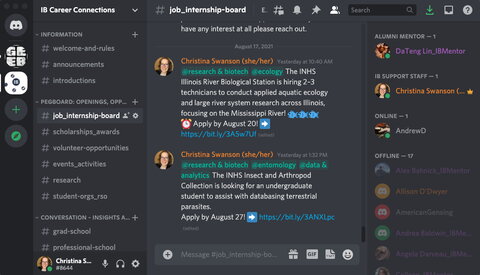 Image

If you have any questions contact Christina Swanson
Everyone is welcome, and heartily encouraged to participate in this safe space.
Hate has no home here.