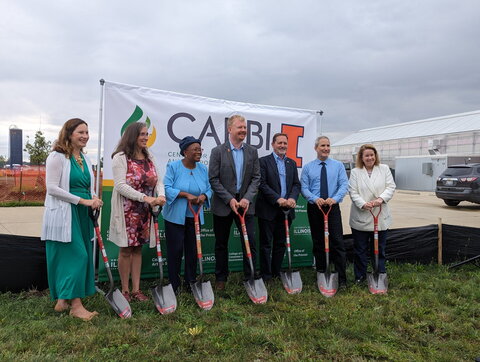 Representatives from the University of Illinois Urbana-Champaign broke ground Wednesday, Sept. 27, 2023, on a state-of-the-art greenhouse in the Research Park.
The planned greenhouse will support the Center for Advanced Bioenergy and Bioproducts Innovation (CABBI), which is led by Illinois Professor Andrew Leakey and nearly 60 other investigators across the country. CABBI is a $252.5M U.S. Department of Energy-funded Bioenergy Research Center. It engages faculty from the College of Agricultural, Consumer and Environmental Sciences (ACES), the Grainger College of Engineering, and the College of Liberal Arts and Sciences (LAS). It aims to provide the scientific discoveries and new technologies to develop an economically viable and ecologically sustainable domestic biofuel and bioproducts industry from dedicated bioenergy crops. 
Susan Martinis, Vice Chancellor for Research and Innovation at Illinois, called CABBI's research "absolutely dazzling" and said the new greenhouse will propel researchers toward greener energy solutions.
"Next year, when the project is complete, it will create research and teaching opportunities for faculty and students across three colleges on the Illinois campus: Liberal Arts and Sciences, Agricultural Consumer and Environmental Sciences, and Engineering," Leakey said. "So, it will benefit an incredibly diverse group of people — from experts in gene editing and plant physiology to artificial intelligence and crop breeding — as they work together to develop a profitable and sustainable future for agriculture in Illinois and the Midwest."
Undergraduates will also benefit through CABBI's Research Internship in Sustainable Bioenergy (RISE), targeted at students from backgrounds underrepresented in STEM fields, Leakey said.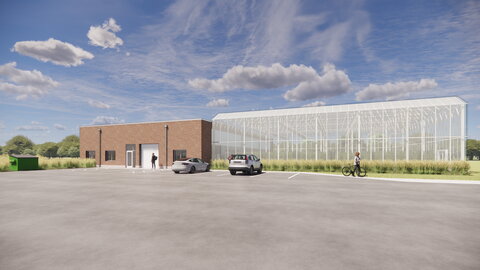 The greenhouse will be home to a high-throughput plant phenotyping facility and state-of-the-art walk-in growth rooms, with space for future expansion. "This facility is really going to enable us to do innovative research to explore how plants and microbes interact with each other to affect the sustainability of our bioenergy cropping systems," said Wendy Yang, Associate Professor of Plant Biology and Geology and CABBI's Sustainability Theme Leader.
Designed with energy efficiency in mind, the greenhouse will feature a solar panel array.
"That is an investment in the long-term future of this facility and our planet's environment. I keenly anticipate that the scientific discoveries, technological innovations, and training opportunities that come out of this greenhouse will also drive positive change for society in Illinois and beyond," Leakey said.
The facility joins a growing agtech cluster in the Research Park that includes the neighboring RIPE greenhouse, major global seed companies, equipment manufacturers, retailers, and bioprocessing leaders. This further advances the University's position as a leading research institution in agriculture, energy, and environment by complementing the unique capabilities that CABBI leverages at the Energy Farm, Integrated Bioprocessing Research Laboratory, Carl R. Woese Institute for Genomic Biology, and the Institute for Sustainability, Energy, and Environment. Located on Fourth Street, just south of St. Mary's Road, the project will be developed by Fox/Atkins Development and is planned to be completed and operational in the summer of 2024.
Related topics: