Image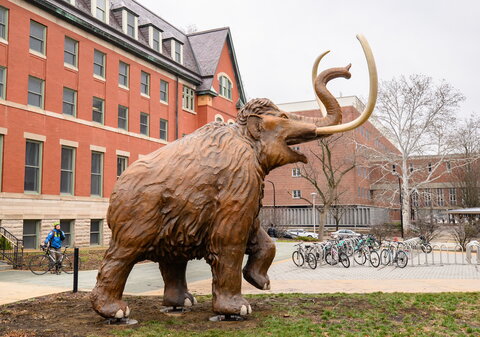 The BSLAS-MS in Integrative Biology joint degree program provides students with curricula and experiential learning in genetics, evolution, anatomy, physiology, ecology, and molecular biology. After completion of the foundational 100- and core 200-300-level courses in IB, students complete the required advanced coursework. Additionally, the MS in IB program provides students with a non-thesis, course-based advanced degree program opportunity.
Traditional master's degree programs typically require at least two years and the completion of a thesis component, which this degree program does not require. This joint degree program offers advanced coursework in fields such as organismal biology, behavioral ecology, anatomy and physiology, environmental science, bioinformatics, pathology, genomics, and mathematical modeling to name just a few. Students in the BSLAS-MS in IB program can enhance their skill sets within IB upper-level courses through our world-class educational experiences, without having to invest in a required thesis component for the degree. Students interested in research are still able to participate in course-based research opportunities such as IB 390, 490, and 590, particularly those students desiring to be considered for graduation with distinction. Typical time to degree completion is 5-years (ten full-time semesters) with both an undergraduate and advanced degree. This accelerated, combined degree program thus makes BSLAS-MS in IB students more competitive for employment and future research opportunities, also with higher earning potential.
Program Overview Degree Requirements Learning Outcomes Sample Sequence Book an Appointment Apply 
Tuition and Financial Aid

Like many professional degree programs, the MS portion of the degree program is self-supporting and does not offer or accept tuition waivers. Financial aid is available to students accepted into the program. For more information on financial aid eligibility and requirements see the Office of Student Financial Aid. There are also additional financial opportunities including:

Graduate hourly positions offered on-campus (e.g. graders, research) that are willing to support an hourly position instead of providing a waiver or stipend
On-campus or off-campus employment (also see Job Boards from the Graduate College)

For the most up-to-date tuition and fees information and the helpful Illinois Cost Calculator tool, see the Office of the Registrar's Tuition and Fees page. Students will use the Chemistry and Life Sciences base rate when calculating tuition rates. 
Student Advising Services

The School of Integrative Biology considers quality student instruction as one of its highest priorities as we continue to welcome new students to be actively part of the discipline. We thus build in support for students in multiple ways:

Academic Advising: Specific to the MS portion of the degree program, all academic advising (such as applications, course-selection mapping, and career-readiness counseling) is performed by the Director of Graduate Studies.
Career Advising: As part of the MS portion of the program, students take a course, IB 592: Career and Skill Development in IB, which includes more tailored mentoring, with course goals of building confidence to find and secure a career, making connections in the field of integrative biology, and applying resources learned to aid in job searches and applications. IB 592 serves to connect students with IB alumni and mentors and helps them to better plan their next steps and career growth through connections with our community here at Illinois. These volunteer and mentoring opportunities help to create more well-rounded applications to professional schools or employment opportunities for MS in IB students. IB 592 also serves to help students make informed decisions about the next steps in their career development.
Allison O'Dwyer | Director of Graduate Studies, BSLAS-MS in IB
I welcome your application to the BSLAS-MS in IB program! Please email me at aodwyer@illinois.edu if I can help in your application process. In addition to directing the BSLAS-MS in IB program, I am a Senior Instructor as well as the Assistant Director for Academic Affairs for the School of Integrative Biology. My background includes research in algal ecology as well as serving as a K-12 Biology educator. I am a native gardening enthusiast and enjoy digging in the dirt with our two daughters. I look forward to mentoring you in this program.
286 Morrill Hall, MC-120
University of Illinois
505 S. Goodwin Ave.
Urbana, IL 61801 U.S.A.
phone: 217-300-5039
email: aodwyer@illinois.edu